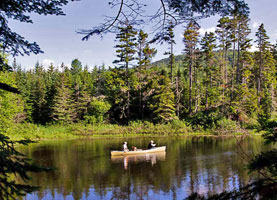 The Remote Pond Survey Project is a collaborative effort that began in 2011, and seeks to recruit volunteer anglers to identify previously-undocumented wild brook trout populations in remote Maine ponds. Maine brook trout are a special resource, and we need to know where they are before we can protect and manage them appropriately. The information collected by volunteer anglers, verified by biologists, will help inform future fisheries management decisions.
Volunteer Anglers Needed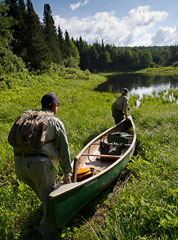 The largest reservoir of native salmonid diversity in the country… Maine has the most extensive distribution and abundance of brook trout throughout their native range in the United States, and has been designated as the last true stronghold for wild brook trout. It is estimated that Maine contains over 97% of the remaining brook trout lakes and ponds in the country. Maine has over 6,000 lakes and ponds, but prior to the launch of this project in 2011, close to 1,000 of those waters had never been surveyed by fisheries biologists. These ponds have also never been stocked before, and most are small and very remote. Maine is the only place in the contiguous US where biologists are still discovering previously-unknown populations of native salmonids.
We need your help! Thanks to the overwhelming response from anglers and the conservation community, we are pleased to announce the launch of the seventh consecutive year of the Remote Pond Survey Project. There are lots of exciting places to explore this year, and we are seeking new and returning volunteers to assist with this effort. You too can be part of this exciting conservation effort and backcountry adventure!
The success of this project is entirely dependent on the data collected by volunteer anglers, so please consider helping with the Remote Pond Survey Project. This is your chance to make a significant contribution to the conservation of native brook trout in Maine. If you love to fish for brook trout and are looking for an adventure, we need you!
This program is on hiatus at the moment. Please check back for updates.
---
Learn more about the Coastal Stream Survey.